I almost wrote this off my list completely because I didn't know about it. I actually passed on it one day not know what it was but someone had told me about a temple with hundreds of Kannon statues and I was interested immensely after that. This temple is popular for its 1001 statues of Kannon which is the goddess of mercy. Founded in 1164 and called Rengeo-in (Hall of the Lotus King) is the official name of the Buddhist temple. Sanjusangen-do literally means "Hall with Thirty three spaces between columns. It was built under orders of Emperor Go-Shirakawa and had a fire in 1249 and the only thing rebuilt was the main hall in 1266. There was popular archery contest called Toshiya that is held on the grounds since the Edo period. It is also believed that the famous warriors Miyamoto Mushashi and Yoshioka Denshichiro had their battle just outside of the the temple in 1604. The main deity is the Thousand Arm Kannon of the temple and the statue of the main one was created by Kamakura Sculpture Tankei and is officially a National Treasure. On both sides of this main statue are 1000 life size statues of the Kannon in 10 rows and 50 columns. 124 of these are from the original temple that were saved from the fires and the rest were carved in the 13th century. they all were made from Japanese Cypress and look marvelous. Unfortunately you are no allowed to take any pictures inside the main hall but you can see pictures online that were allowed. I think ti is also one of the longest wooden buildings in the world.
Like usual in my quests in Kyoto I was at peak school trip time and had tons of junior high students running around also asking if i could take a picutre with them.
It really is a long building, you can find it pretty easy. It is enclosed with a gate but it is right next to the Kyoto National Museum which I didn't do.
My ticket to get in, it was like
¥
600
to get in for an adult.
All gravel all around the main all.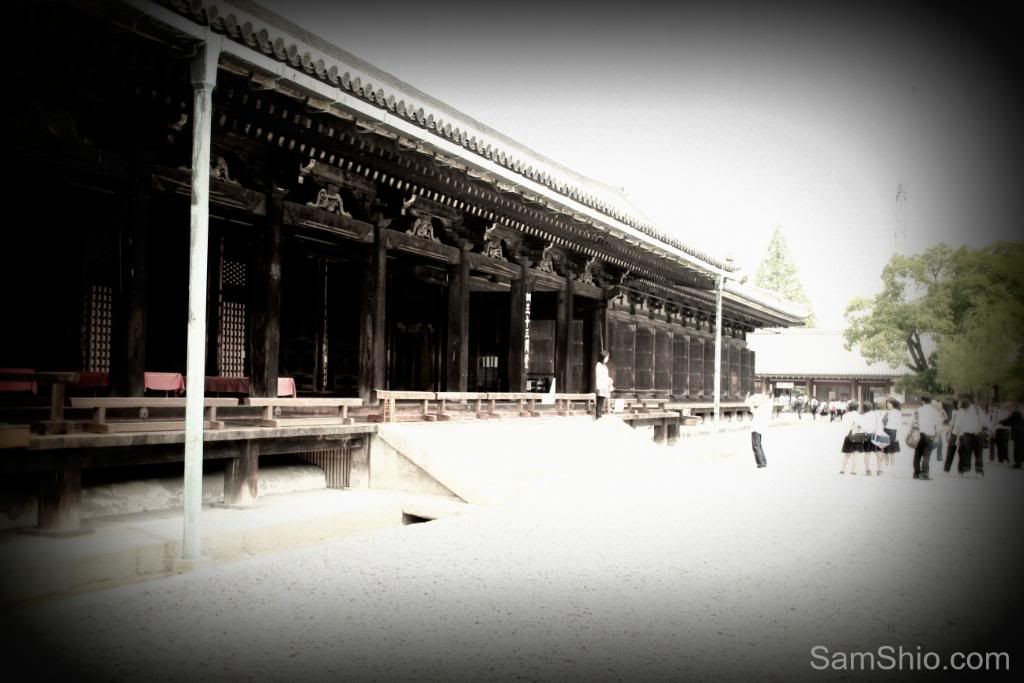 I lobe this orange, I took some pictures for students in front of this gate.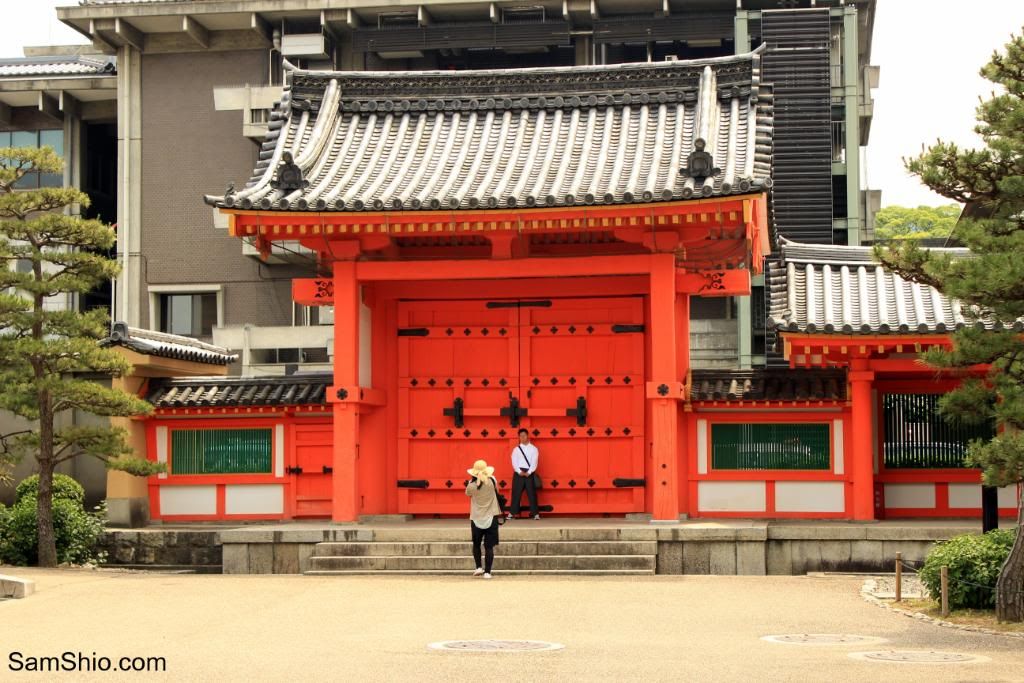 There was a path that was outlined for visitors that you can take outside the hall.
Love gardens, absolutely love Japanese gardens.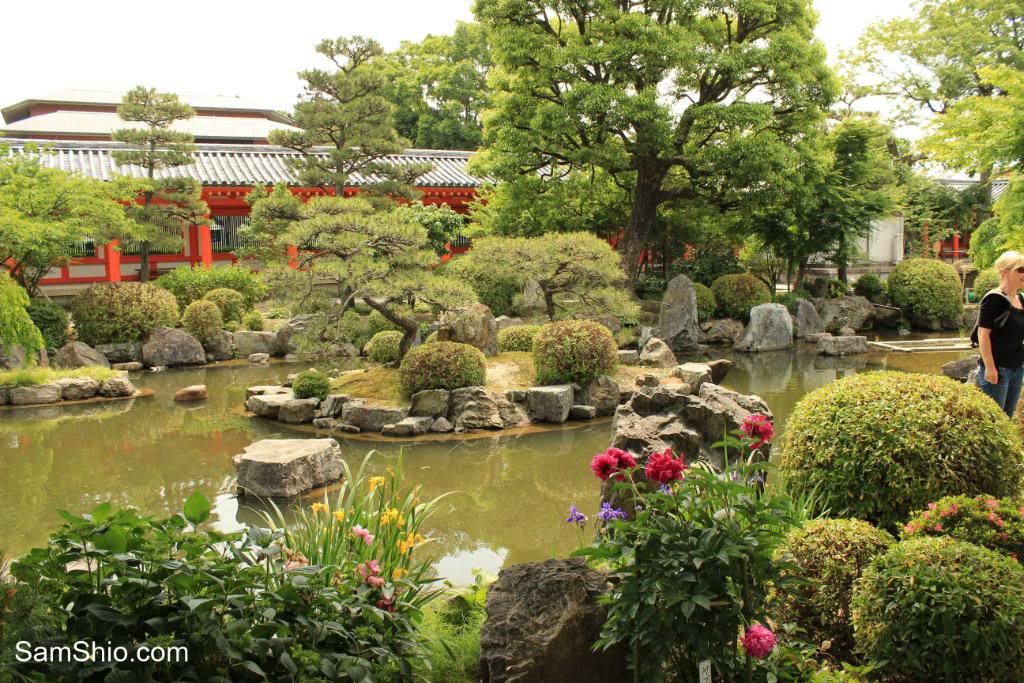 A fountain spring for you to purify yourself to enter the temple and grounds.
I am glad that at some really popular temples that the put some of this information in English, of course if I read Japanese I would get more information haha
Sorry about the over exposed pictures from the camera.
Here is a paper that has more info in it for me.
Of course a map as to where it is.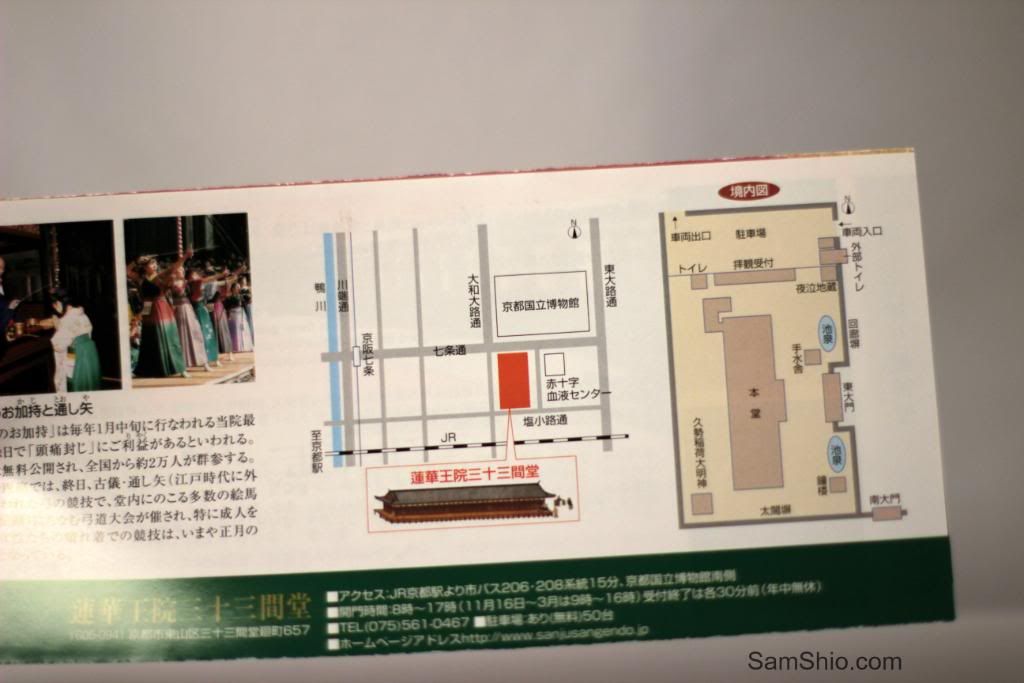 Thanks for checking out one more of Kyoto's famous temples. All the info comes from the Wikipedia page of
Sanjusangen-do
.